The 2024 Nissan Armada is not just an SUV; it's a statement. With a design that blends robustness and modern elegance, the exterior of the Armada captures attention from every angle. Nissan has successfully married a rugged aesthetic with refined details, making the Armada a true contender in the full-size SUV segment.
Striking Front Fascia
The front fascia proudly carries Nissan's signature V-motion grille, creating an imposing presence on the road. Flanked by sleek LED headlights, the Armada's face strikes a balance between boldness and sophistication. The redesigned grille not only enhances the SUV's aesthetic appeal but also improves aerodynamics for a more fuel-efficient ride.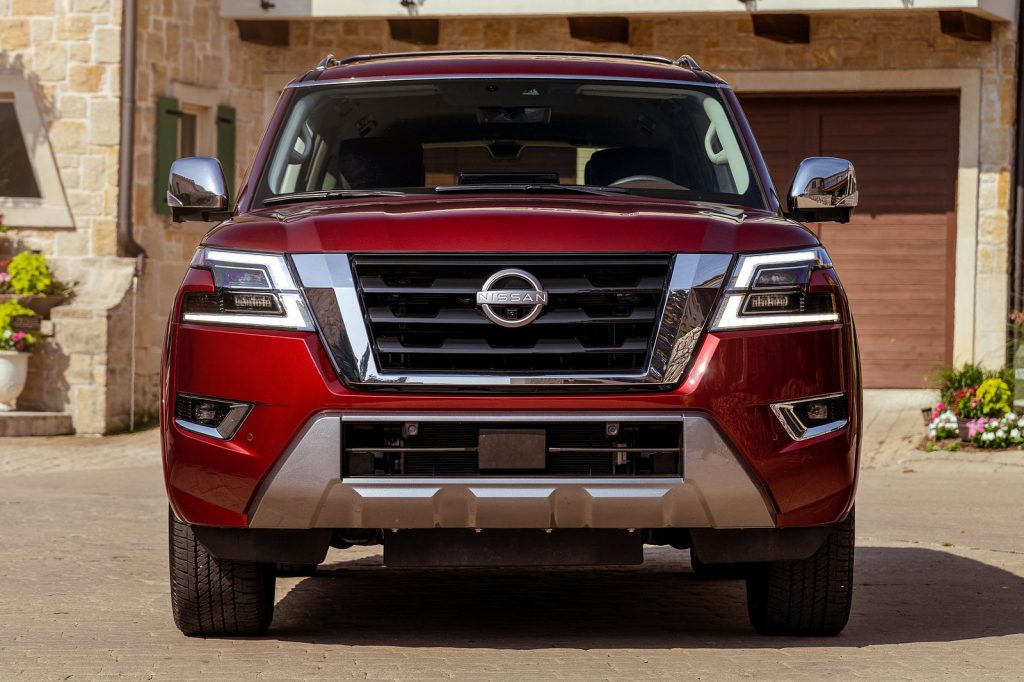 Sleek Profile and Attention to Detail
Moving along the side, the Armada's sleek profile is accentuated by chrome accents and precisely sculpted lines. The introduction of new alloy wheel designs complements the overall aesthetic, providing a touch of luxury. The carefully crafted details, such as the chrome door handles and dynamic character lines, showcase Nissan's commitment to exterior excellence.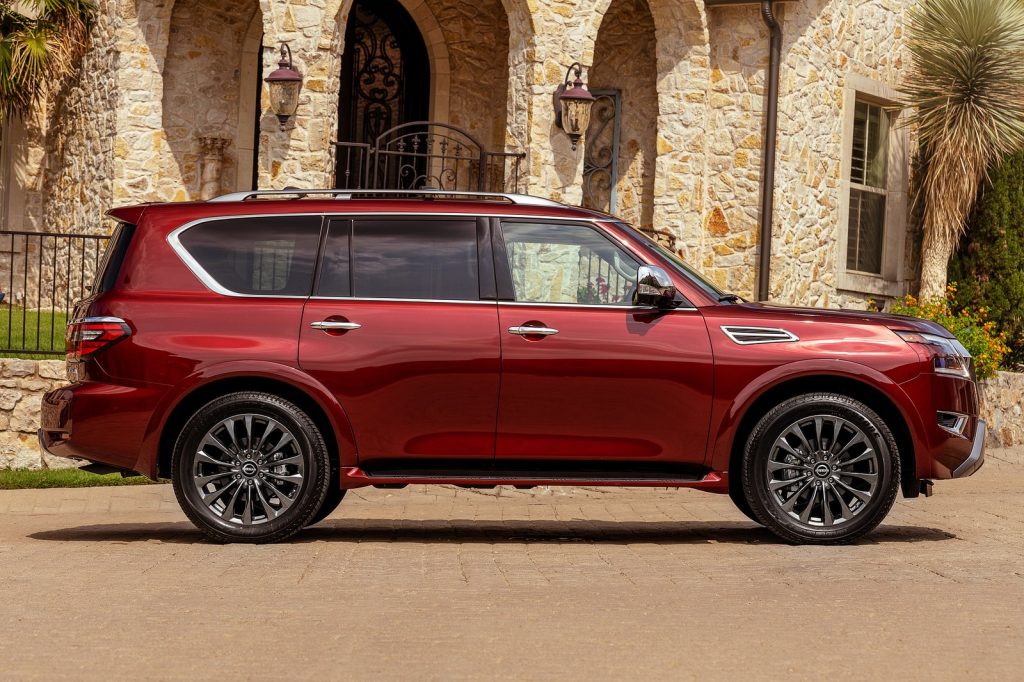 Panoramic Views and Tailored Finishes
The rear of the Armada continues the theme of modern luxury. LED taillights, a power liftgate, and a revised rear bumper contribute to the SUV's overall premium look. A panoramic sunroof is available, providing passengers with expansive views of the sky and adding an extra layer of sophistication to the driving experience.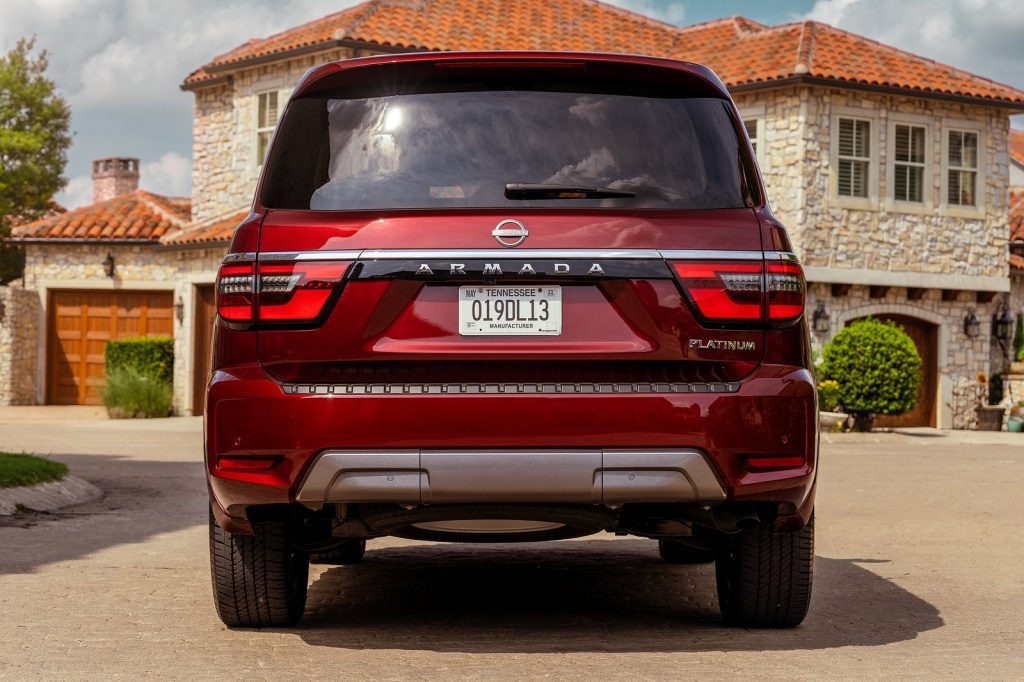 Interior: Opulence and Comfort Redefined
Step inside the 2024 Armada, and you'll be greeted by a sanctuary of opulence. Nissan has spared no expense in creating an interior that not only delights the senses but also prioritizes comfort and functionality.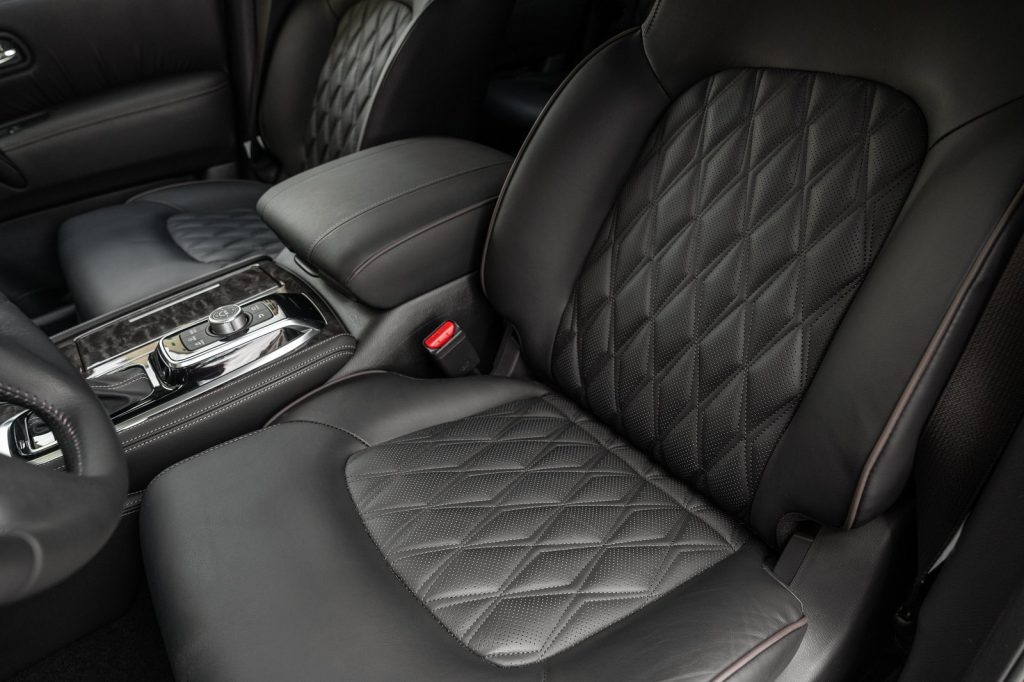 Premium Materials and Craftsmanship
The cabin is adorned with premium materials, from soft-touch surfaces to available genuine wood accents. The attention to detail is evident in every corner, showcasing Nissan's dedication to craftsmanship. The spacious interior ensures that every passenger enjoys a comfortable ride, with ample legroom and headroom in all three rows.
Cutting-Edge Technology
The 2024 Armada comes equipped with Nissan's latest infotainment system, seamlessly integrated into the dashboard. A large touchscreen, intuitive controls, and smartphone connectivity options enhance the overall driving experience. The available premium audio system transforms the cabin into a concert hall on wheels, elevating road trips and daily commutes alike.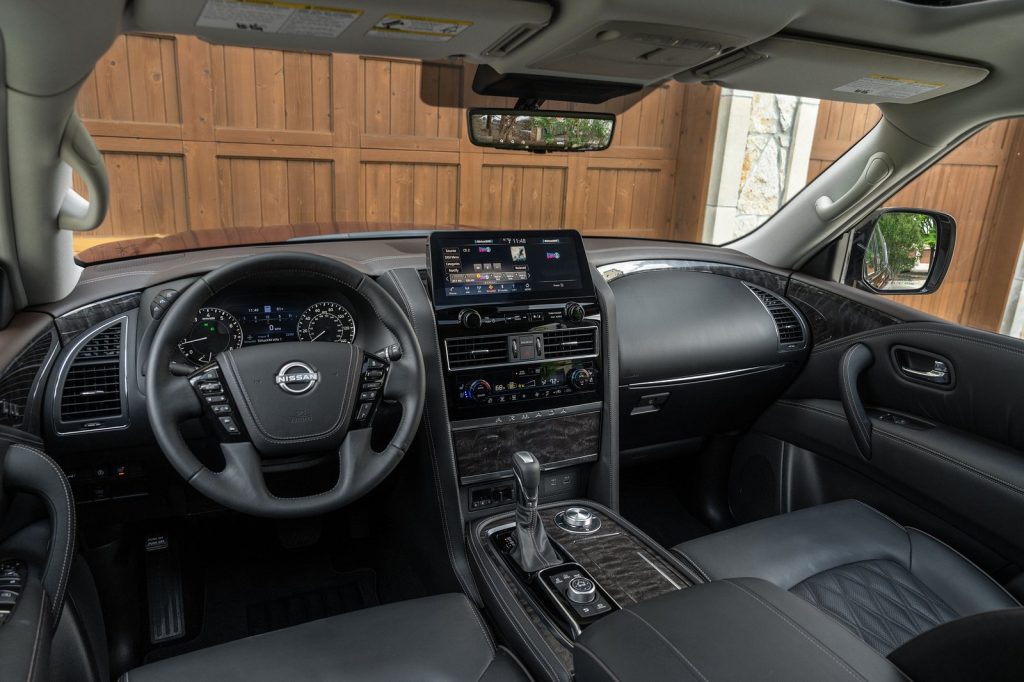 Intelligent Features for a Connected Drive
Nissan's commitment to innovation is showcased in the Armada's intelligent features. We are dealing here with highly advanced driver-assistance systems with adaptive cruise control, lane-keeping assist, along with smart-tech gizmos such as user-friendly navigation system or voice recognition.
Engine: Power and Efficiency Harmonized
Under the hood, the 2024 Armada combines power and efficiency, offering a robust engine that doesn't compromise on fuel economy.
Potent V8 Engine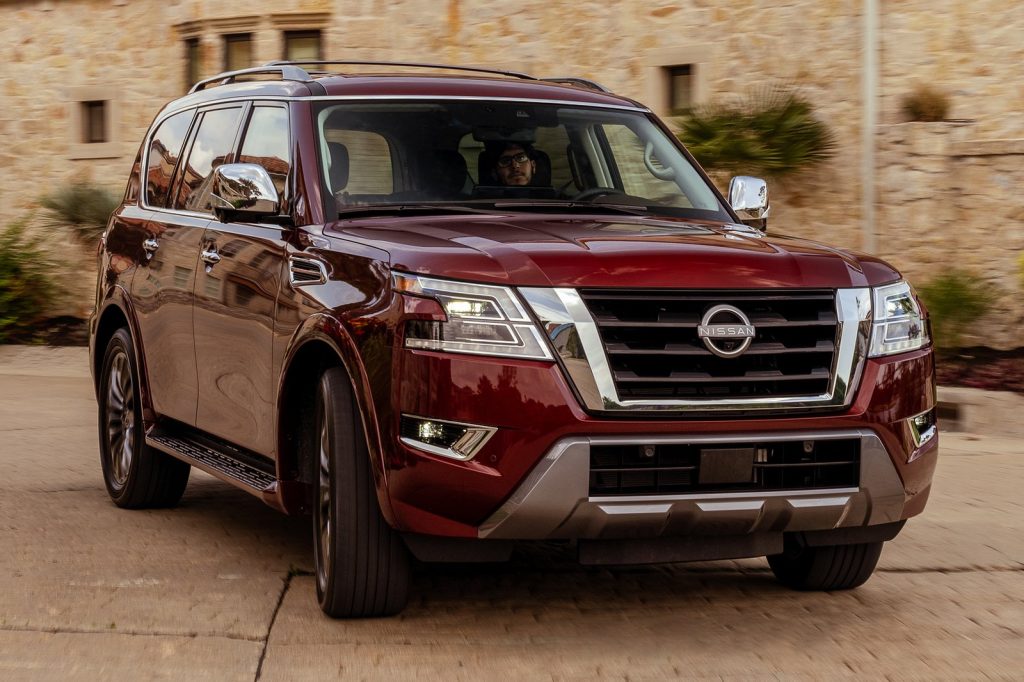 The heart of the Armada is a potent V8 engine that delivers exhilarating performance on the road. With ample horsepower and torque, the Armada effortlessly manoeuvres through city streets and conquers highway stretches. The refined engine ensures a smooth and responsive drive, catering to both the thrill-seeker and the daily commuter.
Towing Capacity and Off-Road Prowess
Beyond its on-road prowess, the Armada is equipped for adventure. A substantial towing capacity makes it an ideal companion for family vacations or weekend getaways. Additionally, available off-road features, including a robust four-wheel-drive system, enable the Armada to handle diverse terrains with confidence.
Prices and Trims: Affordable Luxury Redefined
One of the most compelling aspects of the 2024 Nissan Armada is its affordability, with a starting price tag of $55,000.
Trim Options
Armada SV: Starting at $55,000
Armada SL: Elevated features and technology upgrades at $60,000
Armada Platinum: The pinnacle of luxury with advanced amenities at $65,000
Customization and Value
Nissan understands that drivers have unique preferences. The availability of different trims ensures that buyers can customize their Armada according to their priorities, whether it is about advanced safety features, premium interior finishes, or cutting-edge technology.
Final Thoughts: Elevating Expectations
In conclusion, the 2024 Nissan Armada emerges as a game-changer in the full-size SUV arena. With a captivating exterior, a meticulously crafted interior, a powerful engine, and an affordable price tag, the Armada redefines the expectations associated with luxury SUVs. Nissan has successfully created an SUV that not only meets but exceeds the demands of modern drivers, making the 2024 Armada a compelling choice for those seeking the perfect blend of opulence and affordability on four wheels.
2024 Nissan Armada – Media Gallery