The Motor Exclusive Crew travelled to London again last week. As always, we had an awesome time checking out the venues and nightlife in this vibrant, bustling city. Since most of you know that everyone here at Motor Exclusive is a hardcore, dedicated petrol head, you understand that nights out aren't our main source of fun! As you can imagine, it wasn't long before we yielded to our urges and grabbed a collection of some of the market's best rental cars from our usual supplier, (and reliable friends) at Nationwide Hire UK, and burned rubber through the capital's streets in style.
Our first choice was the Lamborghini Gallardo LP560-4 Spyder (our fellows' review here). Certainly up there with the world's most impressive and visually-striking supercars, the Gallardo is one of the Italian manufacturer's crowning glories, and has won numerous accolades since its debut in 2008. It marries sensational kerb appeal with performance that's hard to rival. Our crew rated this as right up there among the best cars they've ever taken for a spin – and for good reason.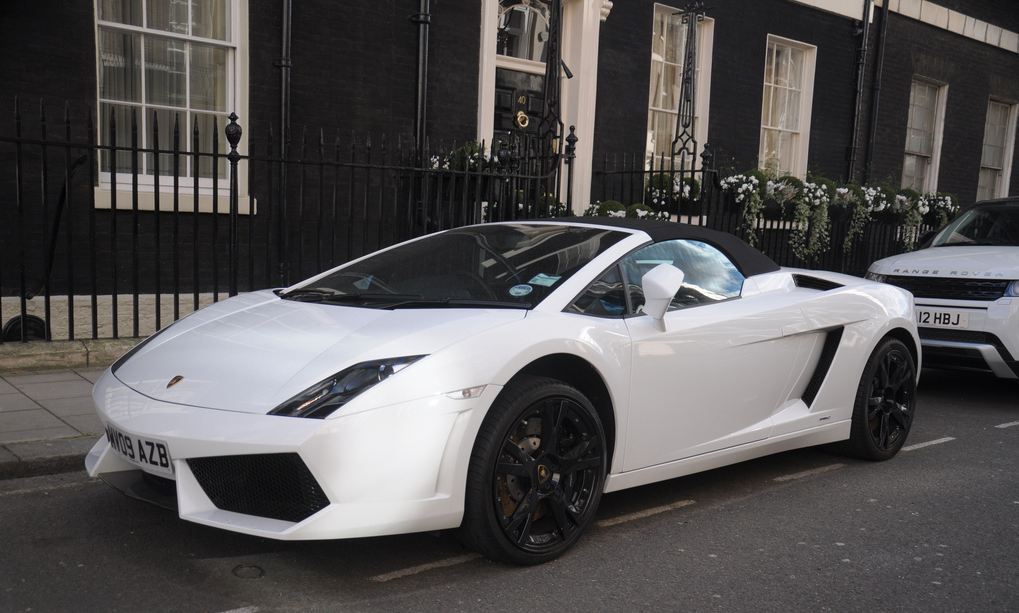 The Gallardo boasts a top speed in excess of 200 mph, and while far more sensible speeds were adopted on London's streets, it wasn't difficult to imagine the effortless power under our control. A 0-60 time of less than 4 seconds is readily achievable, thanks to the impressive V10 engine, which emits some 550 bhp. Stability control is standard, and the Lamborghini features plenty of safety devices and settings which ensure that your spin is not only a thrilling one, but as safe as possible. Handling is sensational, thanks to great grip, traction control and precise steering, while the throaty roar of the engine is unmistakable. There are few driving experiences that can top the sensation of taking the Gallardo on the roads.
The Gallardo is impressive internally too, with beautiful finishes and a superb driving position that is hard to beat. It has wonderful ergonomic design and a superb communication and sat-nav layout. Lamborghini have perfected the interior layout over decades of evolution, and the Gallardo benefits from every little touch the designers have learned over the years.
The finesse, visual impact and effortless power put this right at the top of our "must drive" list. The Gallardo may be one of the world's finest ever supercars, and certainly one that no self-respecting petrol head should miss out on!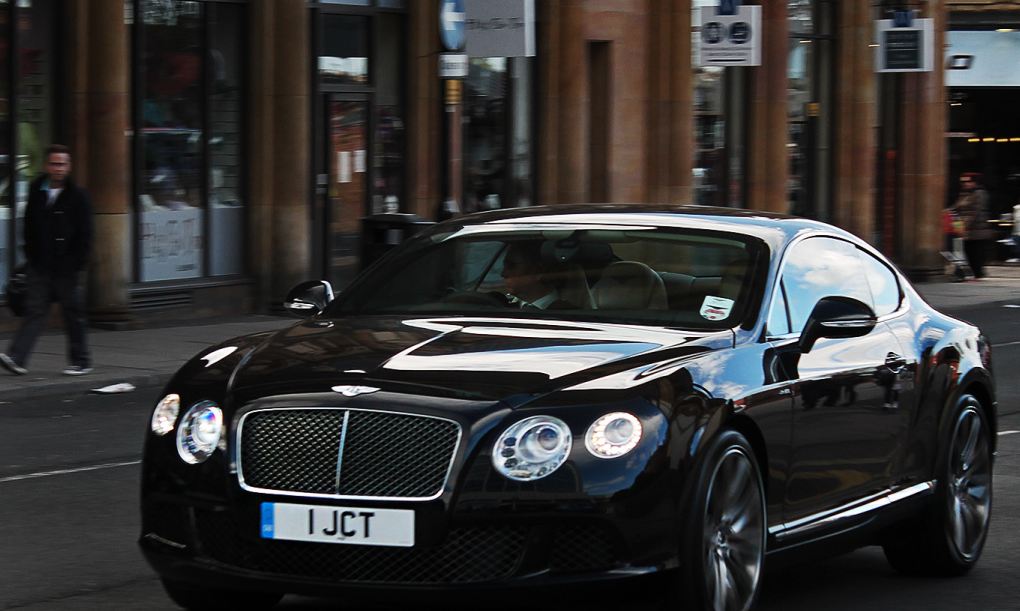 Next up was the Bentley GTC Continental. It's been on the market since 2003, and remains one of our favourite luxury touring cars, thanks to a sumptuous blend of British elegance and a remarkably potent engine. Over 500 bhp is emitted by the twin turbocharged V8 engine, more than sufficient to propel the Bentley from a standing start to 60 mph in a shade over four seconds, making it one of the quickest cars on the road. The Bentley is of course a car built for comfort, but the weight and size make little impact on the performance; if anything the large car feel just adds to the ride enjoyment. It's a very solid performer at speed, though lacks the intensity and sheer excitement of sportier cars. With adjustable suspension and ride settings, we found the Bentley delivers accurate and responsive handling whatever your driving style.
Heads were certainly turned by the Bentley's striking visual appeal. The soft top touring car boasts a host of contemporary touches; the stylish flared rear spoiler and trendy LED running lights are very 21st Century, while the soft top adds an additional wow factor. Inside the Bentley are all the luxury finishes you'd expect from this marquee – soft touch leather is standard throughout and the dark wood insets and panels are classy and luxurious, adding a real touch of grandeur. While the sheer driving fun of a supercar is hard to replicate in a larger Bentley, both the handling and performance gave our crew plenty of thrills. Naturally we opted to put the top down and were extremely impressed by the neck warmer and heated seats which allowed us to enjoy the British climate in comfort!
The Porsche 911 series seems to have been around for ever, yet every time you set foot in one, the experience remains as exciting as the first time. We managed to get our hands on a 911 997 Turbo Cabriolet, a sixth generation incarnation of the German classic, and we thoroughly enjoyed our time behind the wheel.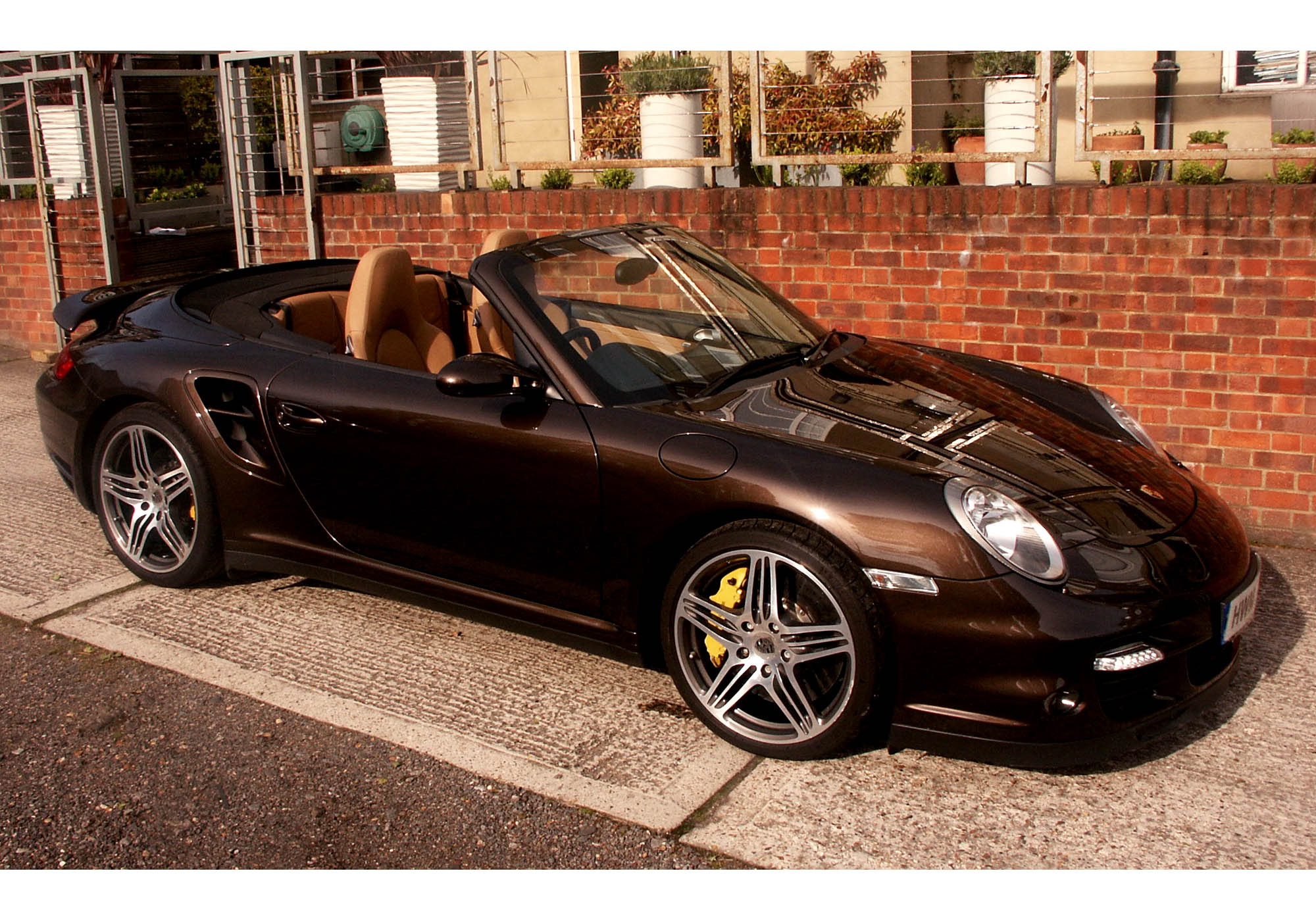 Let's talk performance. The 997 can accelerate to 0-60 mph in under 4 seconds, and reaches a top speed in excess of 190 mph, putting it firmly among the leading players of its class. There's a very low drag coefficient and, with the extended spoiler and four wheel drive, road handling is much improved compared to its predecessors. Traction control is excellent, and although you can still send rear wheels spinning out, they are far more controlled now thanks to dynamically-apportioned torque. The visual appeal of the Porsche is heightened by twin exhausts and modified rear body styling.
The engine can output some 470 bhp, meaning there's ample power for any situation, and the satisfying roar of the engine is appealing to both driver and onlookers. Heads certainly turned as we spun the Porsche down some of London's most famous roads! The interior is compact and the driving position is excellent, with low road positioning to boot. It's not practical or of much use for a family, but the 997 is an intensely satisfying driver's car, with power and performance in spades.
The final car we hired was a classic Ferrari 458 Spider. Rightly named World Supercar of the Year back in 2009, the 458 Spider is another fantastic Italian supercar which oozes quality at every turn. It was designed with help from Formula 1 great Michael Schumacher, and is simply gorgeous to look at.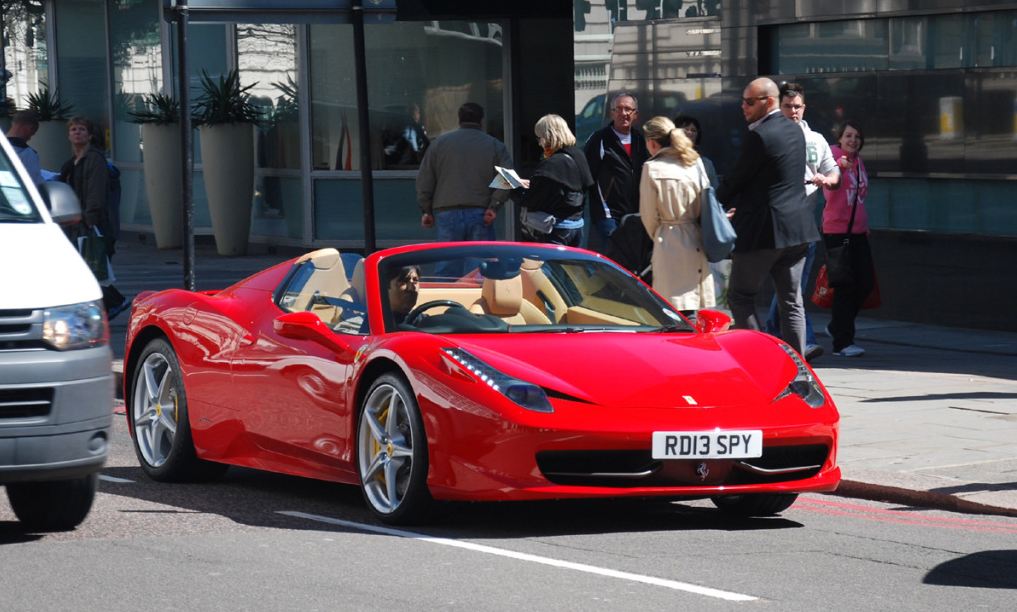 Performance was perhaps the best of the four cars we enjoyed, with an incredible acceleration to 60 mph in a touch over 3 seconds thanks to its magnificent V8 injection engine. With an accompanying top speed of 202 mph, the 458 Spider is a world class powerhouse, amply guided by a 7 speed dual clutch transmission. We found the road holding and ride absolutely sensational, possibly the best we've ever experienced.
The Spider also scores extremely highly for its looks. It's curvy in the extreme with as much sex appeal as you can imagine from a car of this – or any – class. It features a retractable folding hard top, around which the Ferrari's appeal truly shines; this is a car to enjoy both from the visceral driving experience and simply to be inside. The two seat cabin is superbly apportioned, with just enough legroom and a magical driving position. Touches are minimal, but appreciated, with seats as comfortable as we've found in a modern supercar.
All in all, the Motor Exclusive Crew spent a blissful day touring London and its surrounds in four magnificent cars; an experience we'll be keen to repeat in the near future.
Share this post with your friends!